Well it's been awhile since I posted.
Time is going by fast for a change since I've been back. Mainly because I've joined 2 stitchy ornament exchanges on 2 different boards and they need to be done and ready to mail when we get HOME in December. I'm doing well on stitching them too and I'm glad. I sort of lost my stitchy uumph lately and I don't know why. I have so many patterns that I really want to stitch but just don't feel like stitching. I have managed to finish 2 projects, both were on the Blackwork SAL from Needle Nook. I finally finished June and July.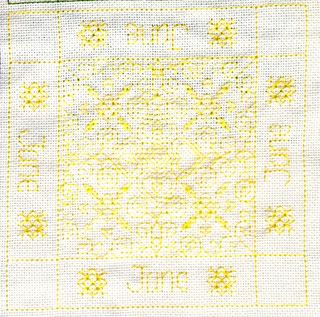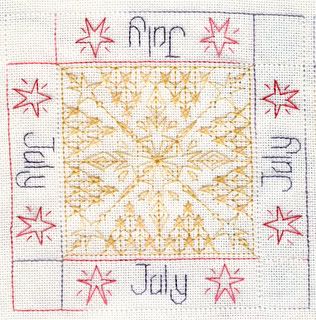 WE'RE GOING HOME FOR CHRISTMAS!!
We have our tickets and my passport has gone in for an exit/re-entry visa!! Woo hoo, I'm going from 95F weather to probably 20 degree weather in a 24 hour time span, it will probably be cold, damp and snowy while we're home too. We're flying an American air carrier from Eurpoe to Washington DC, taking another American air carrier to NH, I know we'll miss that connecting flight in DC because it's just barely over 2 hour connection time. Not to mention we're flying the national flag carrier here to Rome, that will be an exciting flight, no booze served on board. But, we're getting HOME on December 13 and staying until Jan. 3!! I'm excited about that, but not the snow and cold. Christmas, well I can take or leave that.

It's still warm here during the day, like about 98F but "cools" down to about 85 in the evening.
The morons on the compound decided to rip out bushes and cut down shady trees last week. So now my privacy hedge and tall shady trees that kept the sun and heat out behind our house are gone. So now the back side of our house is open to the office parking lot, so I guess I have to find my short shorts and tank tops and walk back and forth to my laundry room wearing them and maybe someone will get the message that I want my privacy fence back. Obnixous, You bet I am, personally I don't give a shit who sees me dressed in my comfortable clothes, if they had left the bushes/trees up, they wouldn't have to look at me and get offended by my legs and arms.
My DH is off on a business trip this week. He left Saturday afternoon and hopes to be back Monday afternoon. WOO HOO, now I get to clean the house!
We had to take one of our kitties to the vet last week. She had her front claws growing into her paw pads. We DO pay attention to our pets but never noticed this. She stayed overnight and got her paws fixed, had her 1 tooth cleaned, they gave her a bath and got all her matted fur cleaned up. She looks so pretty now, she's a white cat again instead of beige-ish. Poor thing is old, deaf, only has 1 tooth in her mouth, pretty sure she has arthiritis in her hind leg, she goes to the bathroom a lot, espically in the house if you don't get up in the middle of the night and let her out.