I DID get my anniversary project done, just after midnight, a few minutes late but it's done! After looking at it, I don't know if I want to make a bell pull or have it framed. I'll have to look some more. The picture isn't that great so I'll have to take another one later.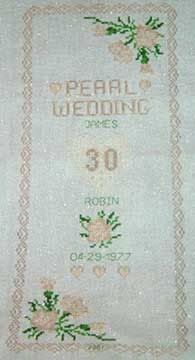 We didn't go out for supper last night, DH had things to do for work so we're going out tonight. He bought me a 2gb flash drive for my anniversary! WOO HOO! Now I don't have to keep dragging CD's back and forth with me and forgetting files when I go on vacation.
My flash drive came just in time too, I went to turn on my computer this morning and nothing happened, it just sat there. I do know the fan has been making a lot of noise lately so maybe that was the problem, I hope so anyway! If it is my old hard drive, it's a good thing I transfered my Cross Stitch files to my XP hard drive, LOL. So I guess I'll be stitching for awhile. I'm using my husband's laptop right now. It's a good thing he's a computer geek and has a couple extras around the house.
Well, the Yankees blew another series this weekend. They've only won 1 game against Boston in a 6 game go round. The Yankees are at the bottom of the pile this year.