Easter came & went, just another day here. I colored eggs, DH bought me a HUGE Nestles Aero chocolate egg and 2 chocolate bunny "lollypops". The back of the box the huge egg came in had a little tag that said "Happy Easter", that's why he bought it.
Not much going on. The censors finally unblocked my photobucket albums but there are still some albums that I can't see pictures from.
A Rod has been doing well for the Yankees, 7 home runs so far, but the team themselves isn't doing so well. The pitching staff is lousy.
I finished my Stuffed Square Easter Eggs project on Easter day but I don't know how I'm going to finish it yet, maybe a cube block.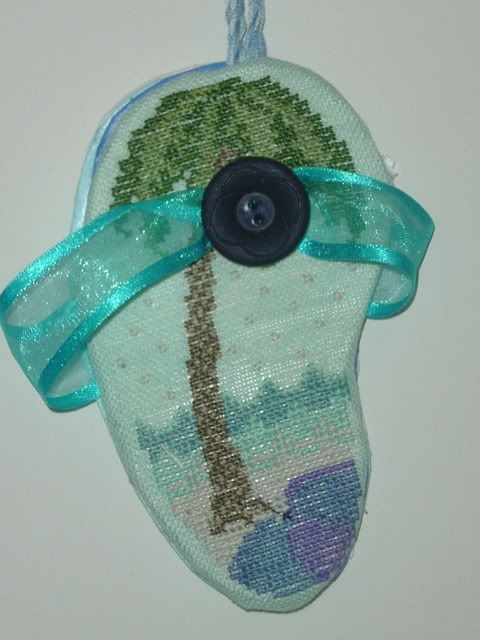 I finally got around to finishing my flip flop ornament. I am not at all happy with the sloppy job I did but it's all glued down now so I'll have to leave it. I'll have to make a better cardboard shoe print so it fits smoother around the curves. The next one I am going to stitch is an anchor, Terry & I are going to start it on the 20th.
I just can't get into stitching much this month. There are a lot of projects I want to do but no ambition to stitch.